Piezoresistive Gauge Pressure Sensors of 500G via Glass-bonding and 330B through Thick-film Process
Model 500G Gauge Pressure Sensors are developed by using SE206 silicon strain gauge chips through glass-sintering-bond process. The 500G pressure sensor can work with high working pressures (up to 5000bar), possess high output sensitivity (up to 15mV/V), high measurement accuracy (better than 0.35%fs), and high stability and no creep effect.
Because its sensor body is made from a mono-block of 316 stainless steel, the 500G pressure sensors possess high resistance to chemical corrosion. As a result of the mono-block sensor, there is no O-ring inside the 500G sensor for seal of working pressure. Therefore, the 500G pressure sensors provide high reliability and safety to high pressure applications. Targeting to industrial applications, the 500G pressure sensors are in mass production and can be delivered in a big volume per batch for size purchase orders.
Besides the 500G mono-block pressure sensors, BCM SENSOR has also developed 330B mono-block gauge pressure sensors through thick-film process. Compared to the 500G series, the 330B gauge pressure sensors possess less accuracy (0.5%fs). Nevertheless, as the 330B sensors are made by thick-film process, the sensor features low cost and big volume for production. As a result, the 330B series gauge pressure sensors are suitable for pressure application in automotive industry.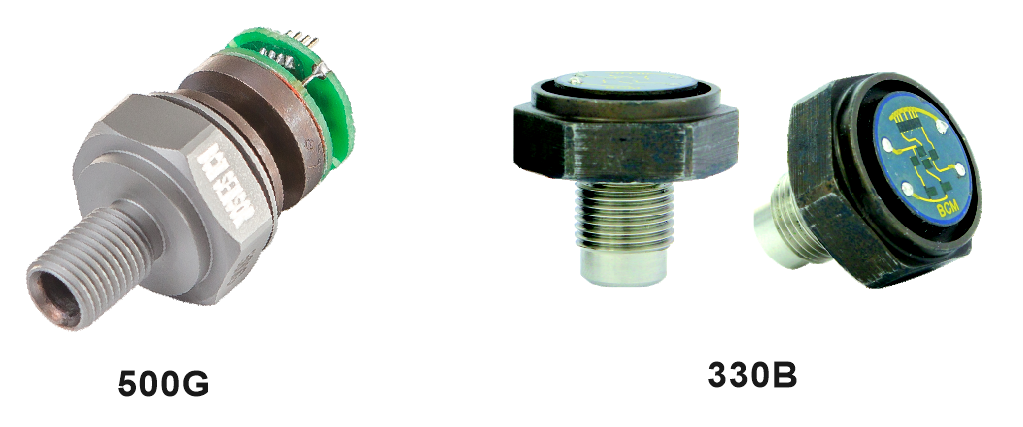 For more details, please refer to the datasheets of 500G and 330B, respectively, on BCM SENSOR website.